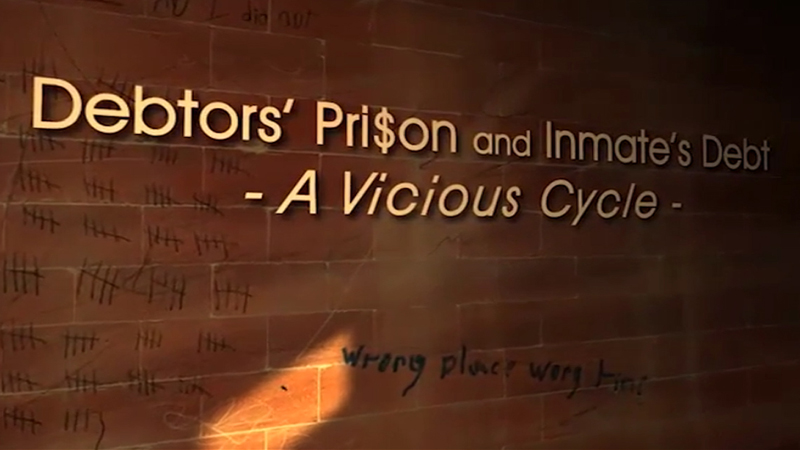 Course Summary
Debtors' prison is an outdated term for a prison for people who are unable to pay a debt. However, in many states, government mechanisms are in place that will charge inmates and free citizens with judgments against them that include numerous fees, but when these judgements and fees are not paid, they are converted to time behind bars, essentially trapping individuals in a financial "debtors prison."  
Specifically, in some jurisdictions within the United States, people can still be held in contempt of court and jailed after willful non-payment of child support, garnishments, confiscations, fines, or back taxes. Then they incur more fees while they are in jail, which they are also unable to pay, and these fees are converted to more jailtime. It is vicious cycle.
This course will explain how these systems work, the history of debtors' prisons, the positive and negative justifications of this practice, and how it affects the most vulnerable and economically challenged citizens of society, keeping them locked in poverty.
This course is comprehensive. Some of the topics discussed in this course include: 
Programs that recoup money from inmates
Pay to Stay jail programs
Suing an inmate for their stay
How charging an inmate fees can reduce frivolous requests
The high cost to incarcerate
Should inmates pay for their stay?
A facility's cost of providing its mandated services
The system's cost of doing business
The history of debtors' prisons
Between incarceration for failing to pay fines and collecting for inmate services during incarceration, an individual can be trapped in a vicious cycle!
Course Syllabus
Module 1 - Debtors' Prison Overview - from History to Modern Practices

Debtors' Prison History
Debtors' Prison is Alive Today
The Cycle Begins
The System's Cost of Doing Business
Module Assessment

Module 2 - How Inmates Incur Debt Inside a Correctional Facility

Inmate Debt
Medical Expense Debt, Dental Care Debt
Inmate Mail, Personal Hygiene
A Facility's Cost of Providing Its Mandated Services
Other Costs - Food, Utilities, Cleaning
Module Assessment

Module 3 - Should Inmates Pay for Their Stay

Should an Inmate Pay to Stay?
Why Pay for Someone Else's Crime
How Charging Inmate's Fees Can Reduce Frivolous Requests
Module Assessment

Module 4 - Programs that Attempt to Recoupe Money From Inmates

Good Programs or Financial Distortions
Pay to Stay Programs
Four-Star Accommodations?, Work Release Inmates
Suing an Inmate for Their Stay
Collecting the Money
Module Assessment

Module 5 - Do Such Programs Make Sense and Cents

Do These Programs Work?
Violation of Rights
Summary