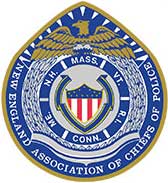 My Experience & Perspective…The Best e-Training Solution
In my career, I have taken and attended many types of in-service training as have you.
From my perspective, I want to share with you what I think is the best e-Training I have used to date for my agency.
For the past 5 years, my agency has successfully used TRN's cloud-based e-Training and Technology solution. The product provides a consistent training curriculum to every officer for their in-service and elective training and the agency's high-liability policies.
The company's technology platform can also provide an easy ability to custom create outgoing communications such as General Orders, Training Bulletins or set-up Roll Call training requirements. Plus, all of the e-training, other outgoing communications and Roll Call functions are available for access on desktops, in-vehicle, and fully mobile platforms.

Upon my request as President of NEACOP, we and the company want to offer any police chief in New England two complimentary courses to see for themselves.
To access the sample e-Training please fill out the form below, then click the SEND button.
The company will e-mail you your complimentary login within 24-hours along with some simple user instructions.
I hope you like the training! I know you will like dealing with TRN.
Chief Ted Smith