Protect Students, Reduce Your Liability, Be Proactive, Educate & Save Lives!
Campus Shield, LLC. & Training Response Network Inc. (TRN) have join forces to provide the most cost-effective and the best-of-breed e-Training curriculum available today. Each course is authored by the country's best subject matter experts within their fields of expertise.
In addition to the great content, the company provides a very comprehensive array of technology support options and applications to use in conjunction with the course content such as:
A detailed Tracking & Reporting System to validate end-users progress
A Documents Mgt. Application to manage and edit virtually any document for internal or external needs with online editing and sharing among fellow editors prior to posting new document live
All platforms access such as laptops/desktop/smartphones and tablets for ease of access/use
Randomized testing to ensure test-result integrity
A new pioneering "Broadcast Alert" application which allows any senior management official to easily create a video message of importance to download for instant mobile and web delivery to every staff member that requires their immediate attention.
And, the best customer support!
Examples of Training Curriculum:
Lockdown Procedures Training
Active-Shooter Overview
Covid-19 "Understanding the Virus and Protective Suggestions"
Understanding Bias/Implicit-Bias
Bullying-Cyberbullying Overview
See examples below…
Meet the Campus Shield Team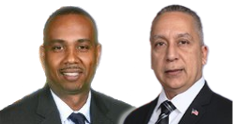 About Ian Moffett & Dr. Hector Garcia