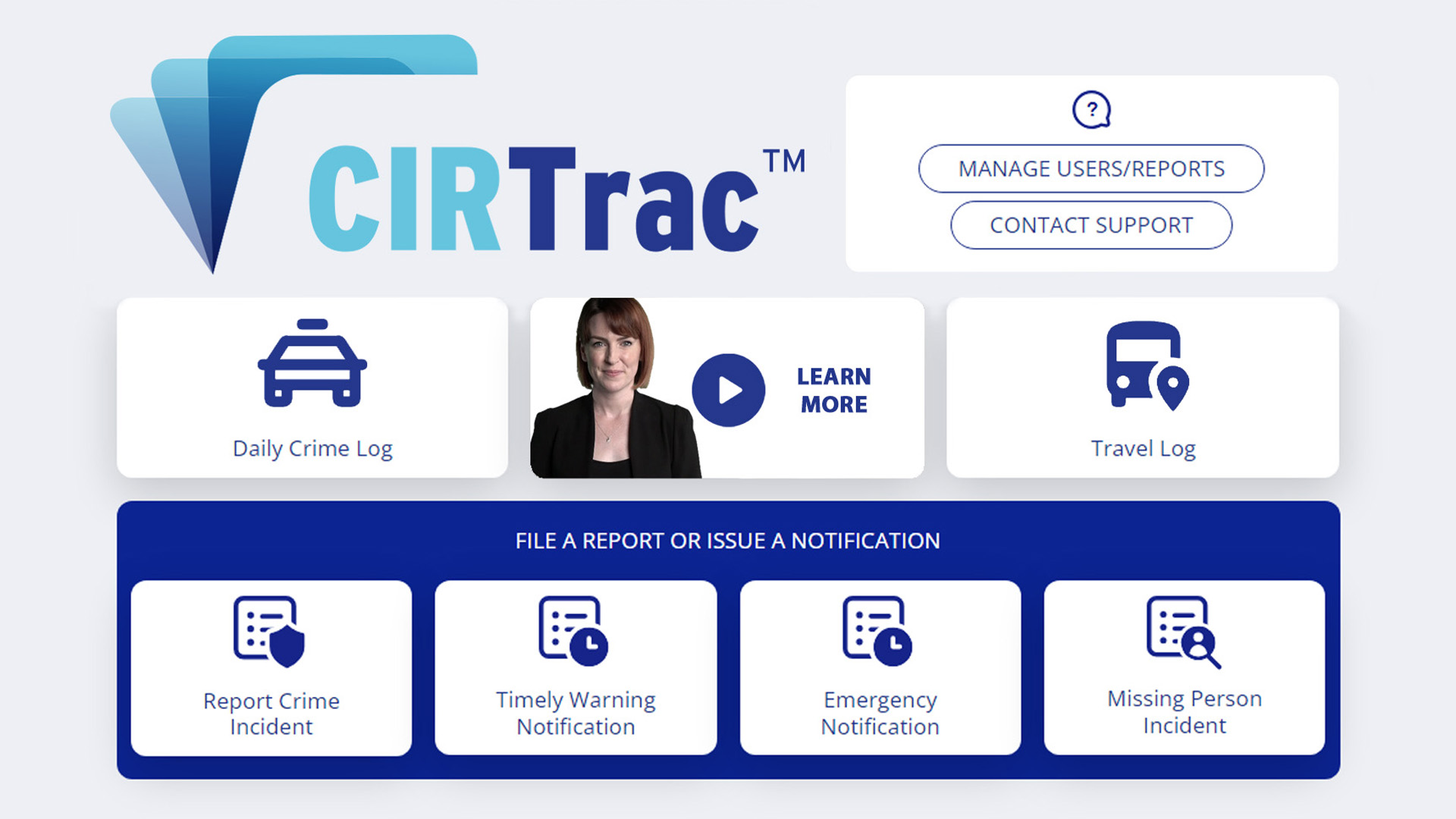 Clery Act compliance not a choice. It's a mandated Department of Education (D.O.E.)  requirement that every higher-education institution that accepts federal financial aid students must comply with.
In adhering to the regulations as set forth by this law, a higher-education institution demonstrates their commitment to creating a safer and supportive environment for the students, staff and employee under its protection.
We at TRN understand the importance of this mission critical need. That is why we created the first ever cloud-based, easy-to-use software system referred to as CIRTrac™  which stands for CRIME INCIDENT REPORT TRACKING. CIRTrac™ is a cutting-edge software solution that strictly follows the required mandates of the D.O.E. to ensure your institutions requirements are easily met. The software system makes compliance easy and accurate.
What makes CIRTrac™ the go to solution for educational institutions within the United States?
Compliance Accuracy: You can rest assured that your institution is following and adhering to the required mandates.
User-Friendly: Easily accessible 24/7-365 days-a-year to all Campus Security Authorities on a PC/Tablet with an internet connection.
Facilitates Reporting: 24-hour access to all CSA's report data on all categories for crime reports, timely warnings, missing persons, travel logs, fire logs and more as required by D.O.E.
Efficient Templates:  An easy to understand, follow and highly accurate format to follow for every type of report.
E-Training Resources: TRN also offers state-of-the-art- e-Training course on the Clery Act that outlines and clarifies the Clery Act and the reporting duties of any Campus Security Authority (CSA).
Geo-Crime Mapping: CIRTrac™ also provides the ability to place a visual geo tag of every crime that is reported on by any CSA to show a real-time visual tracking of evolving incidents to respond more quickly.
And more….
Discover the simplicity, ease, accuracy, and affordability of CIRTrac™. Get in touch with TRN for further information and ensure the utmost safety on your campuses.
About the Author and Company:
Prior to the tragedy of 9/11 in New York City, TRN founder Brad Naples had developed an extensive career in building and leading world-class disruptive companies, decided to take initiative and create a business with an aim of supporting law enforcement and providing easy-to-use eLearning solutions for first responders as well as higher education institutions and K–12 schools on compliance topics related to safety. TRN has been trusted to train well over 40,000 professionals and individuals with its services. Some of the esteemed clients include Detroit PD, Virginia Beach PD, Texas DPS, Jacksonville Sheriff's Office and Miami Police Departments as well as consent decree participation and risk management insurance company's requested review of agencies policies, training, and management practices.